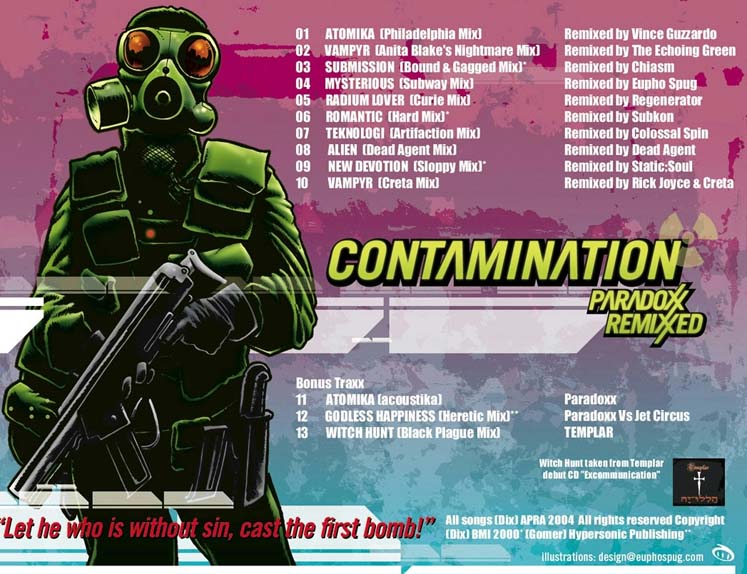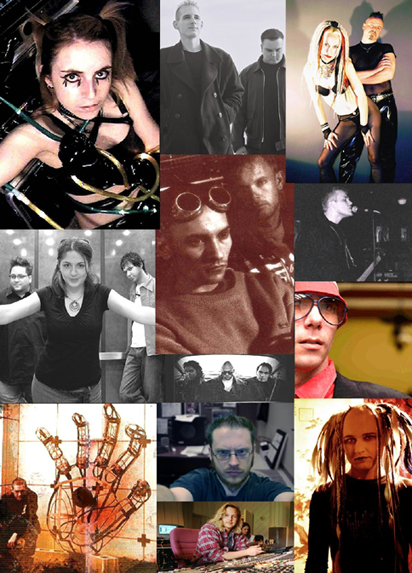 Emileigh Rohn : Chiasm "Submission"

Emileigh Rohn is Chiasm, the project began in 1997 in Detroit, MI, after college and while in grad school for molecular biology. I had always used music and art as an emotional outlet for my frustrations, and with my career becoming more and more narrow in its field, I began to feel more trapped than ever. So I created my own musical project, named Chiasm, after the crossing of optic neurons in the brain that allow us to have continuous and peripheral vision. In the same way, the project allows me to maintain a full view of the world as opposed to the narrow perspectives I have encountered. I depend on it for balance to this day, and pour everything I am into the sounds I create. The music is who I am. At the age of five, I began taking piano lessons from my church organist, Mildred Benson. It was a lot more work than I'd expected at the time, but I enjoyed the rewards of practicing..mainly to be capable of playing the music I enjoyed hearing. At the time, it included honky-tonk favorites such as the Entertainer, and Maple Leaf Rag and eventually grew to include pop radio music such as Elton John and Enya. I often found myself rearranging music to fit how I thought it was best heard, or writing short melodies and recording them to cassette, then dubbing vocals over it by singing with the backup-tape in my parents' garage. It became quite a hobby and I spent many afterschool hours putting these songs together on tapes for my friends and family. Although I was quite shy at the time (and still am a bit now, too), I was talked into singing solos in church which went over quite well with the congregation. At 13, I got my first Casiotone keyboard and began experimenting more and more with song structure and sound collage. It was the first time I'd encountered MIDI, and I recall thinking that someone could really go insane with all the gadgets you could get working together. In junior high and highschool, I was active in the musical theatre groups and enjoyed performing plays and writing short scripts for our annual Vaudeville performances. A few talented friends and I got together and practiced EnVogue covers which we performed at the Vaudeville shows and community centers. My senior year of highschool, I met a group of people that owned professional audio equipment, were highly artistic, and loved to perform. It was then that a siren sounded in my head, and I joined them in an experimental/industrial performance art group called Inter Animi. I spent the next few years on stage with them amongst the plaster and pyrotechnic sheet metal noise in clubs throughout southern Michigan, and it's an experience I'll never forget. While studying biopsych and molecular genetics in college, I managed to take some courses in photography, holography, and poetry which I excessively used as my creative outlet. I'm still hoping to incorporate a lot of the visual imaging techniques I've learned into my Chiasm project..perhaps in some sort of music/poetry art-film cd-rom type thing...hang on, I"ll get there... One night/morning in grad school I agreed to appear in a film entitled "Extinguish", directed by Brian Sullivan..which was a very cool grainy b&w gothic art film about suicide. It was shown at an art festival at 1515 Broadway in Detroit in the winter of 1997 and will soon be released on Outsider Filmworks, featuring a Chiasm soundtrack! Details can be found on the Outsider Filmworks website. In the fall of 1997, I spent many evenings in a local gothic coffeehouse named Ascension UK. It was a great place for writing poetry, hanging out, meeting people, and listening to music, and there I met Calvin P. Simmons of Dragon Tears Descending. He was looking for a keyboardist to help him in a show that October, there at Ascension, and things went from there. I joined the band and later bought my first professional keyboard, the Korg Trinity. We proceeded to play shows, opening for Lycia, and later for Black Tape for a Blue Girl. After getting to know the Trinity, my musical interests became more and more electronic, and eventually I left DTD and formed my own project, Electrophoretic Transfer, including sampling by Shane Terpening, currently of Trotski's Block, who stuck around for the release of our first demo, post coitum, before leaving the country. So I continued with my own work, and my current project, Chiasm emerged. I released the first demo cd, "Embryonic", in October of 1998, and released the song "Bouncing Baby Clones" on the Detroit Electronica compilation cd, "D[elEcTROnIc}T", in the spring of 1999. I've also been privileged to participate in several improvizational performances, including the "Meglomania" performance in the spring of 1998 with members of DTD and Ickytrip. My debut album on COP International, entitled "Disorder", was released in March 2001, and has recently been featured on CBS/Paramount's Navy:NCIS as well as the PC game, VAMPIRE:The Masquerade-"Bloodlines", and is currently in its fourth pressing. A remix album with labelmate Threat Level 5 was also released in 2003. In the meantime, I have been writing new material, and touring the Midwest US, joined by guitarist/bassist B. Johnson, a.k.a. the Rev. Baldknobber.
http://chiasm.org
Vince Guzzardo:Cesium137 "Atomika"

Isaac Glendening and Matthew Cargil formed Cesium_137 in 1998. Experimenting with various forms of dance music and making an effort to generate new tones within their compositions, the duo began performing at various underground nightspots in their native Philadelphia area. They were uninterested in becoming grouped into the emerging "rhythmic noise" scene, and sought inspiration in classical forms of song structure while maintaining their passion for original sounds. Finding a common interest in progressive electronic music, and pop song structures, Cesium_137 put together a cassette demo for Tom Shear of Assemblage23, and later recorded a demo Shear produced. This demo, The Art of Controlling and Composing, brought Cesium_137 much success. Their hit song, "Language Without Lies," played on underground radio stations and at night clubs all over the world. Soon afterwards Vincent Guzzardo joined the duo as a live drummer, bringing a raw enthusiasm for synthpop and EBM, as well as an intimate knowledge of chord progression to their music. They began recording a full-length album with a self-release in mind at West Orange Laboratories and began working with Producer Daniel Kesserich. While recording the album, they caught the attention of Tonedeaf Records, who signed them to release the debut, Advanced/Decay. Their first single, "The Fall," became a dance floor hit. Comprised of remixes by several underground artists, this single took them back to Tom Shear with his remix of "Language without Lies." That song, and "The Fall (edit)" made Side-Line magazine dub their music "a revelation" in the field of EBM. Advanced/Decay took various elements of the old school EBM and synthpop masters and fused it with projections of the future of electro pop. The disc was Cesium_137's first step into the professional arena and was incredibly popular in the underground Electro/Goth scene. Following that release and many compilation appearances, Tonedeaf Records released their second single, "Regrets." Unfortunately, following that single was the attack on September 11th which led Matt Cargil to join the U.S. Navy. Following this loss, preparation began for a new album that not only embraced the band's enthusiasm for trance and synthpop but employ unique sound structures to create an original sound. The band worked only with notable producers and engineers to ensure quality and to give the band access to a larger variety of tone generation sources production options. While more than half of the new album Elemental was produced by Cesium_137, the remainder was produced in conjunction with Soundwave2000 Studios in Finland, Danse Macabre Studios Germany, and with their favorite new media Composer, Andreas Meyer (aka Forma Tadre). Cesium_137 also worked on a few mixes at the infamous Studio Crash! with dance music guru and friend Dave Falciani. Each member of the associated team has a background in classical music study, and contemporary electronic music production, bringing a true understanding of song structure in each fold of the production process. Simply put, Elemental is the dream of Cesium_137 conjured into reality. It is a perfect synthesis of classic pop song structures, emotive vocals, and hard dance music grafted into one form.
http://www.cesium137.com

Eupho Spug "Mysterious"

Simon Wright has been producing and playing funky, meldoic and progressive break-beat tunes as EUPHO SPUG for almost 2 years. During this time he has wowed crowds with his live sets, taking his full studio out to several big local dance-music events, such as the Delirious Festival and the famous Technique nights. Bypassing the usual "sample-based" technique of dance music production, Eupho Spug creates every sound and nuance from scratch, which blend to create a unique soundscape of nu-school breaks, melodic break-downs and catchy agressive riffs. Focussing on production for live performance Eupho Spug has yet to record his tunes, and as such has no recorded samples, although he has remixed and colloborated with local DJ Chad D, and local synth-pop band Paradoxx. Eupho Spug AKA Simon Wright is also a talented artist who was responsible for the amazing cartoon illustrations on Contamination. Immigrating to Perth, Western Australia in 1991, he finished high-school and university and is now a full time graphic designer and illustrator, blending his unique cartoon style and multi-layered designs into award winning fliers and logos. He works full time at and advertising agency and has created a wide variety of corporate design and identity work,as well as illsutration work for international publications such as 'neomu' and 'tokyion' Left Turn is Simon's first foray into full-time comic production, with Chaos Blooms (also written by Nick Nunziata) coming to comic shops in early 2006. When not drawing and experimenting in PhotoShop (TM) Simon likes to produce Breaks and Tech-House tunes in his studio (which has seen him perform live supporting acts such as Carl Cox, and in the main room of the Ministry of Sound Tours), watching DVD's, eating Cadbury's fine selection of products, drinking Vodka and Jeigemeister (not at the same time) and feeding his pain-in-the-arse cat 'Chocolate'. His ancient knees stop him from skateboarding as much as he likes, but don't prevent the old-bastard from cutting a rug on the dance floors of Perth's seedier nightclubs, trying desperately hard not to appear like the seedy old git, he's surely becoming.
http://www.chud.com/index.php?type=comicstrip&id=4447 latest spug track GRIST FOR THE MILL by DJ Kriece - Spugs Up Against the Wall Mix http://members.iinet.net.au/~deepblu/tunes/grist_05.mp3

Rick Joyce Creta/Last Dance "Vampyr"

Joking, some say Rick thinks the world revolves around him. But in truth, Rick revolves around the world. This impression is purely based on Rick's lifetime dedication to the success of The Last Dance. The most multi-faceted person in the band is Rick. He would never admit to you how good he actually is, but watch him play for a moment and become completely engrossed within his style and within his brilliant emotion. Rick doesn't play guitar, he lives it… He breathes it. The aggression that Rick expresses in his music opens a window to listeners of his passion that extends throughout his everyday life. Rick is easily recognizable by his signature colorful braids, his dark wear and his metal bracelets which are never, ever removed. In the best way to describe Rick, one would say that he is extraordinarily dedicated to life, death, happiness, hope, his friends, his family, and his music. He sees a beautiful light in places the average person would never think to look. Rick feels everything. He has a sensitive spirituality, and is one of the most unselfish individuals anyone will ever meet. When you converse with Rick, he gives you his complete and undivided attention. He values greatly the connection made within a conversation which indeed makes you feel uniquely important. "Time stands still when you converse with Rick Joyce." His soul dedication to the band is remarkable. He literally pours his blood into the existence of The Last Dance. It's a blessing at times that his health manages to keep up with him because of his incredible dedication and his determination to never quit… not even for the evening. Rick is vegan, which makes it difficult at times to keep up strength when the band is on tour. Nonetheless, he possesses an admirable amount of strength to make things happen within the bouts of any complication. He simply believes in following your dreams and enjoying what makes your soul thrive. He can answer a complex question with theories that may not have been tested, but enables you to see the light of possibility within their existence. When inquiries are directed towards the operations of The Last Dance, the most common answer to hear is simply, "ask Rick." Rick is known to inspire hope in those who meet him. When asked, he's been known to autograph along with his name the phrase "Believe in Angels." Perhaps this is because of his heart, always willing to listen and care for anyone who's reaching out for comfort. Rick believes that his gifted nature root deep within the wisdom and direction of his faith, and within the loving hands of god. Rick is a truly unique person who gives a special essence to The Last Dance, spiritually and musically. Rick is also the most unpredictable person the band. In October of 1997 Rick disappeared for a month without anyone knowing his whereabouts. Upon his return, his friends, family, and band discovered that he had ventured to Ireland, marrying his true love and soul mate, Michele Phillipson. They were romantically married outdoors on top of the Cliff's of Moher, overlooking the Atlantic, followed by their honeymoon in the castle of Adare Manor. Two years later, Rick and Michele gave birth to their beautiful son, C.J. Joyce. Time has only proven to family and close friends that he takes after his father, with his baby-blue eyes and his charming personality! When you meet CJ, you will see a similar spark within his spirit that has been gifted by Rick; the gift to entertain and keep you solely mesmerized!
www.thelastdance.com

Regenerator "Radium Lover"

Since 1993, Wrex Mock and Patrice Synthea have zealously dedicated themselves to composing and producing synth-based music that espouses a driving sound in which their various inspirations, electro, synth pop, goth, and new wave collide and coalesce. Striving for a modern sound while staying true to their roots, the twosome have taken influences such as Kraftwerk, Depeche Mode, Ministry, and Psychedelic Furs and fused them within their own personal style. Regenerator shirk stereotyping. Their music has a positive message, but they don't produce clean-cut pop or preachy rock. Nor do they dress the part. Further, their music reflects the wide range of emotions that we all feel. They can be angry, joyful, somber, blissful, anxious, and hopeful, even about life on a planet that is seemingly on the verge of annihilation. It's a particular theme that crops up from time-to-time. A musical tug-of-war defines Regenerator's sound. The interplay between Wrex's deep growls and Patrice's delicate singing parallel the duo's inherent dichotomy between aural aggression and euphony. Light meets dark, hope battles despair, jagged edges touch smooth surfaces, and the contrasts make for catchy, danceable tunes. It's in 2001 that the American duo signed to Alfa Matrix for the release of their 5th album "War", in which they continued to focus on creating memorable hypnotic dark pop songs. Long-time fans could then enjoy the "Regenerated-X" anniversary double album and its mixture of past chestnuts and exclusive remixes (by acts like Front 242, Kmfdm, Clan Of Xymox, Assemblage 23, Glis ,etc.). Regenerator are currently putting the last touch to their 7th album, "Disease" due to be released in Summer 2005, on which melody and energy become one. Regenerator's modern passionate sound will soon be infecting your senses...

The Echoing Green "Vampyr"

Hey say that music is a journey, and depending on who you believe "they" are, more often than naught, they're right. Music carries us to places we've never been, will never see, or can only imagine; and for those who compose such musical journeys, they often must first make a journey of their own. This is a glance at the journey behind the music of the Echoing Green. It's often difficult for those who have the gift to create music to say from whence their inspiration comes from, but often the events of their lives play a role in coloring the music they compose. The same holds true for the driving force behind the Echoing Green, Joey Belville. As a young child, Joey experienced a journey that has had a continued presence in his music. In 1980, his mother finally succumbed after a yearlong struggle with cancer. For a young child, it was an event beyond understanding, and one that has forever left a shadow that influences the music Joey composes. During his teenage years, Joey once again experienced a difficult journey as he moved through several abusive situations until finally ending up in a private boys home in New Mexico in 1984. Again, this journey down a dark, troublesome road has left its mark on Joey's life and his music. This is not to say that Joey's entire journey has been through dark, troubled waters. His journey as a Christian has also had a tremendous, more positive influence on the music he molds. The lyrics of the Echoing Green are very honest, often inspired by whatever is on Joey's heart at the time. Although there is a strong element of faith to be seen in the lyrics of the Echoing Green, they're never preachy or come across as religious; indeed, it would be difficult to label the group as merely a Christian band. Joey strives to let the experiences of his life speak for themselves in his music, be they the darks times or the times of hope experienced in his spiritual walk, challenging the listener to dig for substance rather than bombard them with fluffy clichés. Another important component of the music of the Echoing Green is the love Joey has for computers and electronics. Throughout the years, Joey has always had a fascination with technology that is only equaled by his love for music. He's always on the look out for the next advancement in the world of electronics or the latest in computer technology, which often influences how he is able to compose his music. Music, on the other hand, has always held a different fascination for Joey, providing a place to escape and an outlet to express. It was only natural that the love for these two seeming diverse interests would merge into what eventually became the signature sound for the Echoing Green; a sound that is as much electronic as it is heartfelt. The Echoing Green has always tried to distance themselves from the techno-dance stereotype, and that's especially true with the groups more recent records. While there may be some danceable elements in the songs of the Echoing Green, primarily they're designed to just be songs. Whenever people hear the term "electronic music", there is a whole range of instant images that pop into one's mind, most of which don't apply to the Echoing Green. While electronic music may be closely associated with the dance club scene, Joey feels that his music is just like any other, only it happens to be electronic. The genre allows Joey to create a greater range of textures and atmospheres with his songs, and it creates an opportunity to juxtapose lush and beautiful sounds with those that are more gritty and dirty. The Echoing Green definitely doesn't fit the narrow category of "techno", as evidenced by their long and broad appeal. The Echoing Green's journey officially began with the release of the first album, Defend Your Joy, in 1994. As with most groups, the road since then has been full of triumphs and trials, perhaps the most difficult being trying to find a label that wouldn't go under or get sold. Releasing about an album a year, the Echoing Green quickly built up a dedicated following. In 1998 Chrissy Jeter, then known as Chrissy Franklin, joined the group and it became a pivotal moment in the Echoing Green's history. While there had been female vocals previous to her joining, they were usually used in the background. Chrissy helped the sound of the Echoing Green evolve, and through her sense of melody and with her strong voice, she has since become an integral and inseparable part of the unique sound that is the Echoing Green. To certain degree, Joey feels that his latest album, The Winter of Our Discontent, is the culmination of his ten-year plus journey as the Echoing Green. The album overall is more moody and reflective than previous efforts. Joey decided to take on some more intense issues this time around, and the music certainly reflects that. One of the tracks in particular Joey feels he has accomplished more with than he could have imagined: "Story [of Our Lives] is a song I'm not sure I'll ever be able to top ¬ and I don't think I'm going to try. It's a song about where we're at, where we come from, and where we're going; about looking at both the good and bad, standing amazed at the grandeur of our lives." In that sense, the song pretty well sums up the journey of Joey Belville and The Echoing Green. As for the future, well as with most journeys, what's to come is always uncertain but exciting. As a new father, Joey is experiencing a completely different journey than anything he's previously known, and this too will undoubtedly have an effect on his music. The demands of a growing family, both for Joey and Chrissy, have kept them from the constant touring of the past, and perhaps for the better. It has given them a chance to recharge, re-imagine, and prepare for what will come next. For now he is content to help others attain success in the music world by producing the efforts of groups such as Leiahdorus, Mortal and Sly's Alter Ego. Joey is also working on a pet "side" project called Pristina, which will feature a wide variety of female vocalists. The journey for the Echoing Green is far from over, and in many ways may just be beginning. As Joey himself has said, " I don't see our habit of finding different ways to sing about hope getting old anytime soon."
SUB-KON "Romantic"
SUB-KON Philosophy: "Not only imaginative, obsessive and calculating - they can also write refreshing, original 'new-wave sounding' melodies. Songs such as Vanity get you on the dance floor; hauntingly poetic pieces like 'Livin the Strange' can only make you reflect." SUB-KON Background: For those of you who think that the Philly music scene started in the 60's ended in the 70's an encounter with SUB-KON is a must. Octavio and Mark Young formed SUB-KON in Philadelphia during 1992. This two-man team first came onto the scene in 1994 with their first CD "Voices of Constructivist", which received excellent reviews and sold respectably. The single, 'Deviate' fared better in Europe than on the continent here, where they made top three in Germany and Holland on the industrial dance charts. Although their commercial success has been somewhat limited, this should not be taken as an indication of their inaccessibility to Americans - SUB-KON are not only imaginative, obsessive and calculating - they can also write refreshing, original 'new-wave sounding' melodies. Songs such as Vanity get you on the dance floor; hauntingly poetic pieces like 'Livin the Strange' can only make you reflect. These songs, along with nine others, can be found on their new CD 'From Within' - which, with its Electronic Overdrive, Big Sounds and New Wave sensibilities, provides the missing link between Nitzer Ebb and Art of Noise. Sounds peculiar? You bet. Sounds familiar? Decide for yourself.
http://www.tonedeafrecords.com

Dead Agent "Alien"
Ed Finkler played in a few alternative rock bands in the early '90s but bought a drum machine and began experimenting with industrial sounds. In college in 1993, he worked as a vocalist and drum programmer in the group Manhole Vortex with Paul Seegers. Finkler began more solo work, recording a demo tape as Bubblegum Crisis. The death metal band Adversary recruited him for drum programming, though he continued to record on his own. In 1995, Finkler recorded another demo, this time as Cult of Jester. He has also recorded tracks for two compilations: Construction 009 (Arts Industria, 1995) and Electro-Shock Therapy (R.E.X. Music, 1995). ~ John Bush, All Music Guide
http://cultofjester.com/

Static:Soul "New Devotion"

In addition to comprising one-half of industrial rock band Rusted Pig and experimental electronica outfit Redshift Project, Kansas native Derick Bailey, aka -dredge-, also recorded solo as Static:Soul. First known simply as Static, Bailey expanded the project's name in 1999. Many people were introduced to this new outfit through the track "Sloppy", a futuristic, dark electro tune featured on several compilations, including Flaming Fish Music's Ballistic Test 8 and Automata 1.0. The song, which mixed threatening robotic vocals over foreboding, mechanical beats and droning synths, would become the project's signature song and was eventually mixed with Aussie techno-dance band Paradoxx's song "New Devotion" to form the title track for their Devotio Moderna album. Bailey further established his reputation as Static:Soul by releasing the Blindfall EP in 2000. The project featured more dark electro tracks in the vain of globalwavesystem, Blank Frame and Skinny Puppy. He also made several more compilation appearances in the early 2000's.
http://www.automatapedia.com/index.php?title=Static:Soul

Colossal Spin "Teknologi"
Dropping out of university in 1994, Wil Arndt (a.k.a Zurich) forms the Colossal Spin music Project Extravagant Experience (or, C-S-PEE) in Philadelphia. Fat cats figured heavily in the early band art. Seriously -- cats, like the mammal -- really fat ones. After putting together an industrial tape demo of 10 or so songs, which got nice indie recognition from the starving Philly underground scene, Wil hooks up with James Wallace, Nathan Morris and some guy named Mike and starts playing the stuff live to a tight fan base of about five people. Well, six, if you included James' ex-wife. Playing in clubs and on campuses in the NYC and Philly area got old fast, so CSpin fired their manager (who was a heavy toker porn star anyway) and Wil got busy crafting a stellar four-song CD. Before the CD was even pressed, the band gets a spec deal from a major studio (who's out of business now -- not our fault! Not our fault!) and begins seriously courting A&R scum from mainstream labels. The rotating door of the live band lets in (and out) Paul Schneider, Bobby Rae Mayhem, Brian Reed, and some others (because, you know, we're so pro now). Meanwhile, Wil is independently recording and producing local bands of various skill levels, sometimes pulling water from a stone, but mostly screwing up the natural sound of really talented people. (Sorry about that, Rainchildren!). Wil implodes the band in 1997 when he moves to Vancouver, Canada, to escape getting drafted into a Lynyrd Skynyrd tribute band (and to finally wrap up school in art, or design, or something). Needless to say, the finger was given by CSpin to the music industry (or was it the other way around?). Good timing, too, because suddenly good music is "out" and Spice Girls are "in". Spice Girls. For God's sake... Musically, Wil then focuses on incestuously remixing his own stuff for his own label, Genetic Groovemonger Music, and releases tracks on compilations. The internet comes around, CSpin sells lots of "songs" online and crawls up indie charts. Wil starts Mod7, a design studio. Holy crap, it's suddenly 2006, and Wil predicts that this "internet thing" might be big someday.